THUMB WARS

🏅Young Glory Finalist
The brief: use social media as a weapon against itself, and make people use it less.

︎
THE PROBLEM

Social media today has become a mine field of content to navigate in. But it's like invisible mines. People are oblivious to the harm that consuming too much social media can lead to, making it even more dangerous of knowing where not to step. Studies have shown that spending too much time on social media can lead to depression, and in worst case – suicide.

THE IDEA

It's difficult to quit doing something, even though we really want to. The effort to stop doing something can be weak without a strong enough reason. We want to give the target group an incentive to stop doing something, or do it less. But it can be diffucult to go at it alone. The goal is to spark a collective community of people wanting to change themselves, and at the same time help people who've suffered from consuming too much social media.

HOW IT WORKS

Thumb Wars is essentialy a game against yourself where you play by being disciplined. At the same time, you're part of a collective. You connect your social media account to the service, and then... you do nothing. The longer you manage to stay off the social media, the more you'll be rewarded.
1 DAY
2 DAYS
3 DAYS
4 DAYS
5 DAYS

APP USED


1 DAY
2 DAYS
3 DAYS

1 POINT
2 POINTS
4 POINTS
8 POINTS
16 POINTS

STREAK LOST


1 POINT
2 POINTS
4 POINTS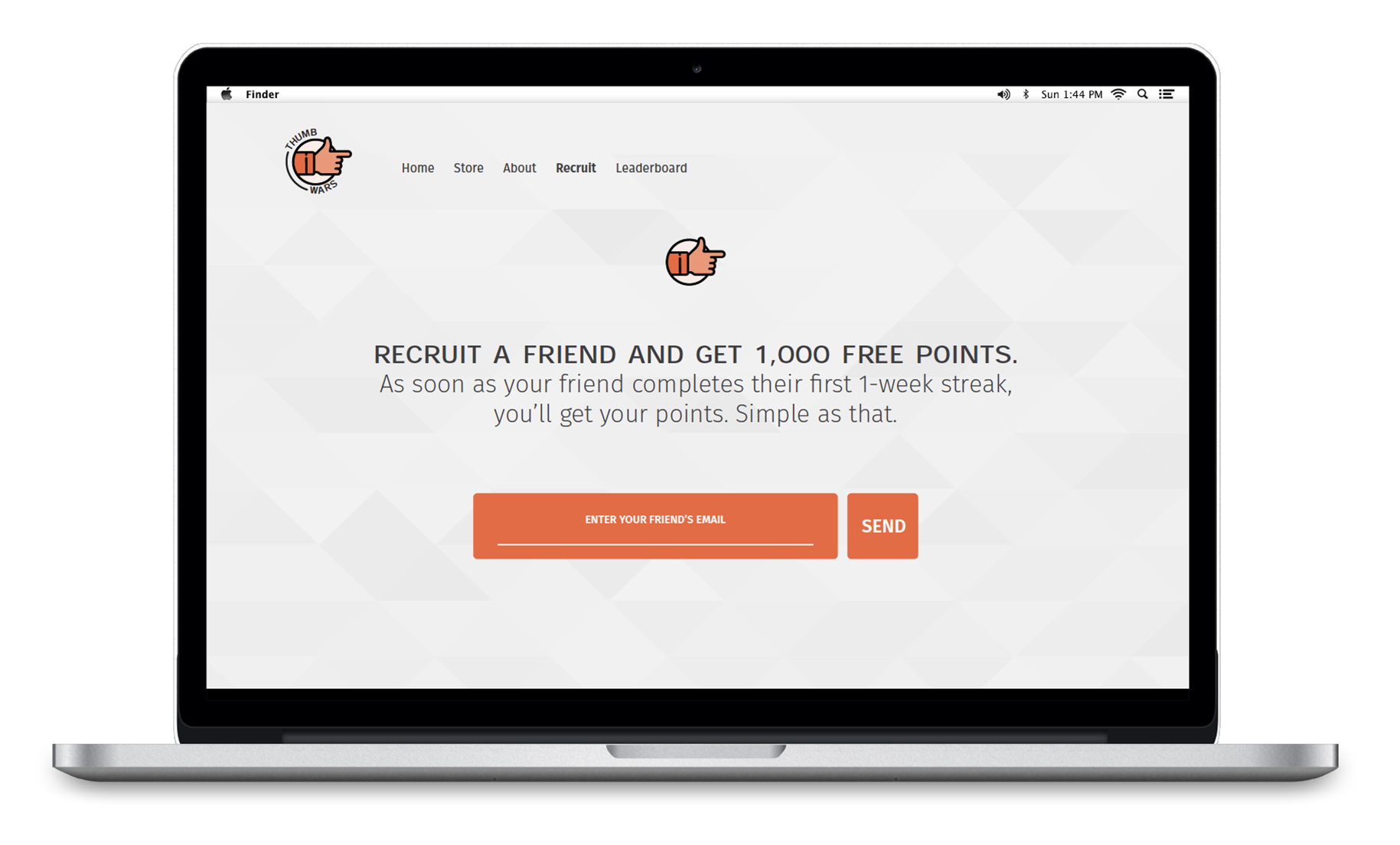 THE WEBSITE

On the website we gather all information necessary. There you also find ways to earn more points. The core of the website, however, is the store. Here you redeem your points and order stuff – standard design or custom made with collaborators or custom made based on, for example, your country's flag. We want this to be a collective game where you compete against other nations by not doing anything.

COMMUNICATION

Since the goal is to get people to use less social media, we want to try and communicate outside of the medium. Clothes and accessories, the beauty
of writing letters and other analogue stuff. But we also need to reach the audience on social media in a curious way.

The tags also shares the message about what Thumb Wars is all about, and our collaboration with Center for Humane Technology, an organisation that envisions a world of more humane technological world.